COVID-19
What we're doing to keep everyone safe.
University General Dentists prioritizes the safety, health, and wellness of our patients and team members. 
Due to a rise in COVID-19 cases in our area, we kindly request that you wear a mask and observe social distancing when in our offices. Also, please keep in mind that we may want to perform COVID-19 precautions, such as taking your temperature, before your appointment.
Even in a pandemic, it's still very important that you take care of your teeth by brushing, flossing, and keeping up with regular dentist visits.
We have implemented a number of safety precautions in our offices to keep you safe when you come in for an appointment, including:
Dental staff wearing PPE such as masks, face shields, gloves, gowns, protective eyewear, etc.
Thoroughly disinfecting rooms between patients
Regularly cleaning high touch surfaces in common areas
Asking patients to wear face coverings when in waiting rooms
Spacing appointments to minimize the number of patients in waiting rooms
Limiting the number of people who can accompany patients to appointments
Placing hand sanitizer around the office for patient use
Removing reading materials and toys from waiting rooms to limit potential for transmission
Practicing and encouraging social distancing
Asking screening questions and rescheduling appointments if symptoms are present
As always, following proper handwashing and instrument hygiene protocols
Requiring staff members to stay home if showing symptoms
We are following all Centers for Disease Control and Prevention and American Dental Association guidelines and recommendations to keep you safe while in our offices. You don't need to be afraid to come in for your routine hygiene appointment or to receive dental treatment. Your safety is our top priority, and we are doing everything we can to protect you as we take care of your oral health.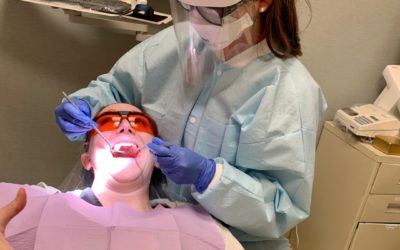 Everything has been turned upside down during the global COVID-19 pandemic. The world of dentistry is no exception. During the spring months, while the pandemic was beginning to take hold in the United States, individuals were advised not to leave home, including...
Your smile is important, be sure to take care of it.
Safety is our top priority, and we're taking precautions to ensure yours and our team's. If you're due or past due for an appointment, give us a call today to get on our schedule. Your teeth will thank you.